David Falldien
Date posted
January 4, 2022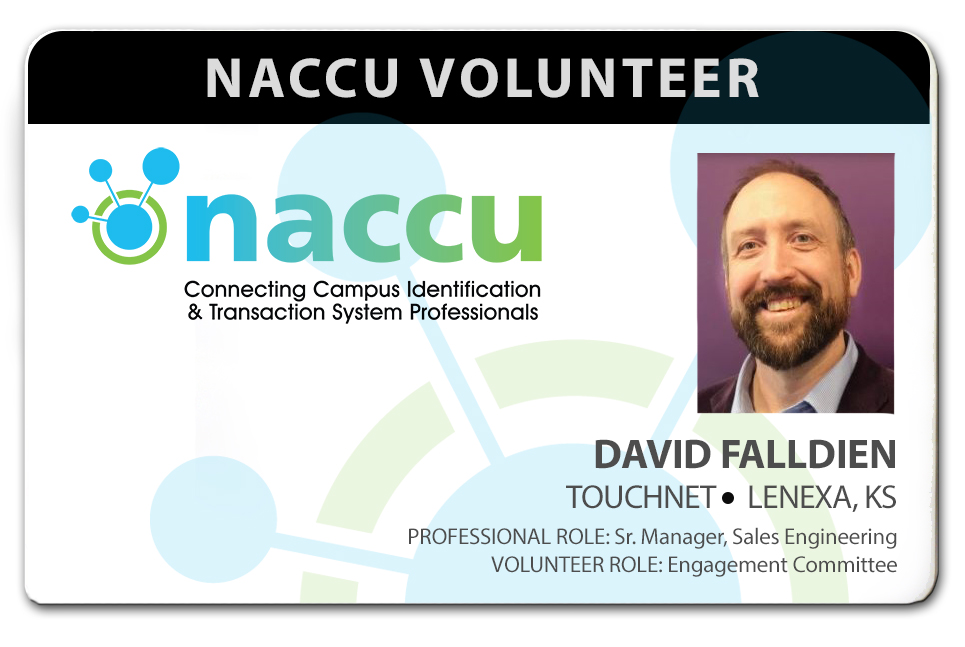 Meet Your NACCU Volunteers: David Falldien
This is the latest installment of the NACCU series highlighting our association volunteers. NACCU provides programs and services to our members, many which would not be possible without the dedication and commitment of our volunteer leaders. Volunteers, whether they are a committee member, a Board member, or an onsite volunteer at a conference, are all important in making NACCU volunteer-driven programs an exceptional experience for our card industry peers.
Campus Card Information:
Name: David Falldien
School: TouchNet
Volunteer Role: NACCU Engagement Committee
What is your role at your company?
I serve as the Senior Manager of Sales Engineering.
Where was the first NACCU conference you attended?
Honestly, I am not sure. My first conference was probably 2013.
What is your favo(u)rite thing about volunteering with your NACCU committee?
My favorite thing about volunteering is the opportunity to make sure people are getting the most out of NACCU. I am such a huge fan of the association and what they do, that I just want more people to take advantage of this great community.
What show are you binge-watching right now?
I am currently binge-watching "Alone" where hardcore survivalists seek to stay alive in extreme locations around the world.
What is your go-to coffee / tea order?
It has to be a Large Regular from Tim's or a Pike Place (no cream or sugar) from Starbucks.
What is your favo(u)rite memory from when you were a student?
So very long ago... I would say working with others to make it through. I definitely have some fond memories of late nights and difficult projects, but everyone wanting everyone else to succeed was a powerful experience.
What is one thing that would surprise people about you?
I am from Canada. :)
What career advice would you give to your younger self?
I would say to stay true to what you know is right. You work too many hours a day to dislike what/where you work. Have faith in yourself and your skills, and find something that brings you joy.
We hope you have enjoyed learning about David! Please look for a new edition of "Meet Your NACCU Volunteers" soon.