Jen McDonald
Date posted
January 18, 2022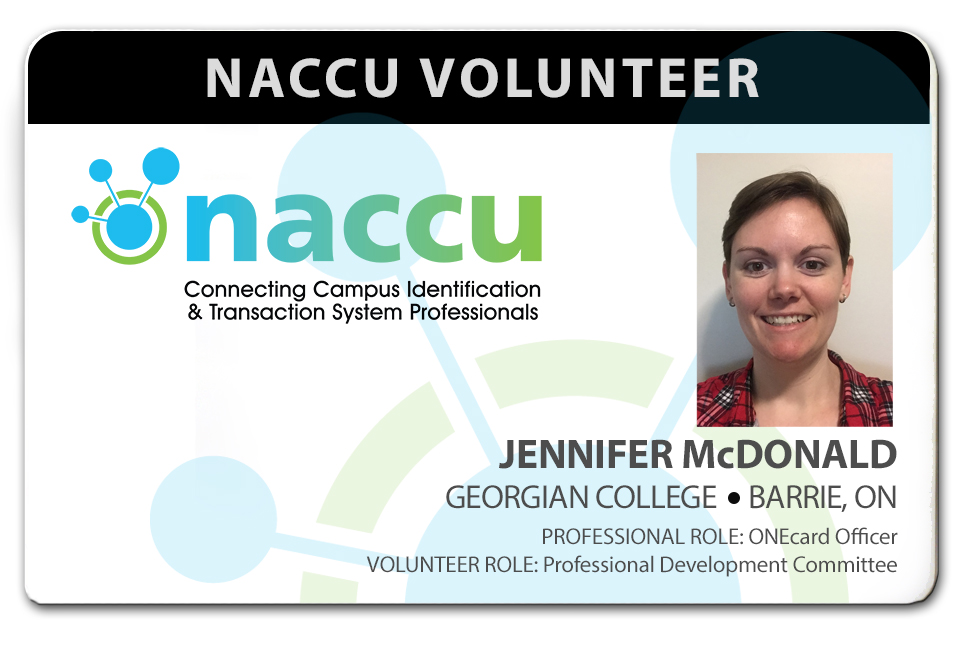 Meet Your NACCU Volunteers:
Jen McDonald
This is the latest installment of the NACCU series highlighting our association volunteers. NACCU provides programs and services to our members, many which would not be possible without the dedication and commitment of our volunteer leaders. Volunteers, whether they are a committee member, a Board member, or an onsite volunteer at a conference, are all important in making NACCU volunteer-driven programs an exceptional experience for our card industry peers.
Campus Card Information:
Name: Jennifer McDonald
School: Georgian College
Volunteer Role: Professional Development Committee
What is your role at your institution?
I am the ONEcard Officer at Georgian College. I handle the majority of tasks, except for our front-line customer service duties, which are handled by our wonderful clerk.
Where was the first NACCU conference you attended?
My first (and only) NACCU conference I have had the chance to attend in person was the 2019 Canadian Campus Card Conference in Ottawa. I'm looking forward to hopefully attending the NACCU Annual Conference south of the border in 2023.
What is your favo(u)rite thing about volunteering with your NACCU committee?
I am incredibly introverted so I find it hard to get out of my comfort zone and meet new people. Volunteering on the PD Committee not only gave me the opportunity to give back to a group of people who have been essential to my success, but to also force myself to make new friends. :)
What show are you binge-watching right now?
I think I managed to binge just about anything and everything over the last two yeas so right now I'm actually binging on books. If I had to pick my go-to show though, it would be New Girl.
What is your go-to coffee / tea order?
My go-to teas are an herbal peppermint or rooibos but I also love me a tea latte made with cashew or oat milk, especially a London fog.
What is your favo(u)rite memory from when you were a student?
When I was in Teacher's College, some of my classmates and I went for a polar bear swim in a frozen river for my birthday in March. There may have been some colourful language that resulted from our dip.
What is one thing that would surprise people about you?
I am not sure there is much interesting or surprising about me, but I do have a diverse range of hobbies that include reading, rock climbing, archery, knife throwing, scrapbooking, video games, movies, shave brush crafting, and writing. One of my stories has been published and I have two more that will be published this year.
If you would go back in time and pay more attention to any class in high school, what would you choose?
I have always been atrocious at Geography, but I don't think I'd bother spending more effort on it. Overall, I am pretty satisfied with how high school went
We hope you have enjoyed learning about Jen! Please look for a new edition of "Meet Your NACCU Volunteers" soon.