Laurie Harris honored with the NACCU 2023 Distinguished Service Award
Date posted
April 28, 2023
Laurie Harris honored with the NACCU 2023 Distinguished Service Award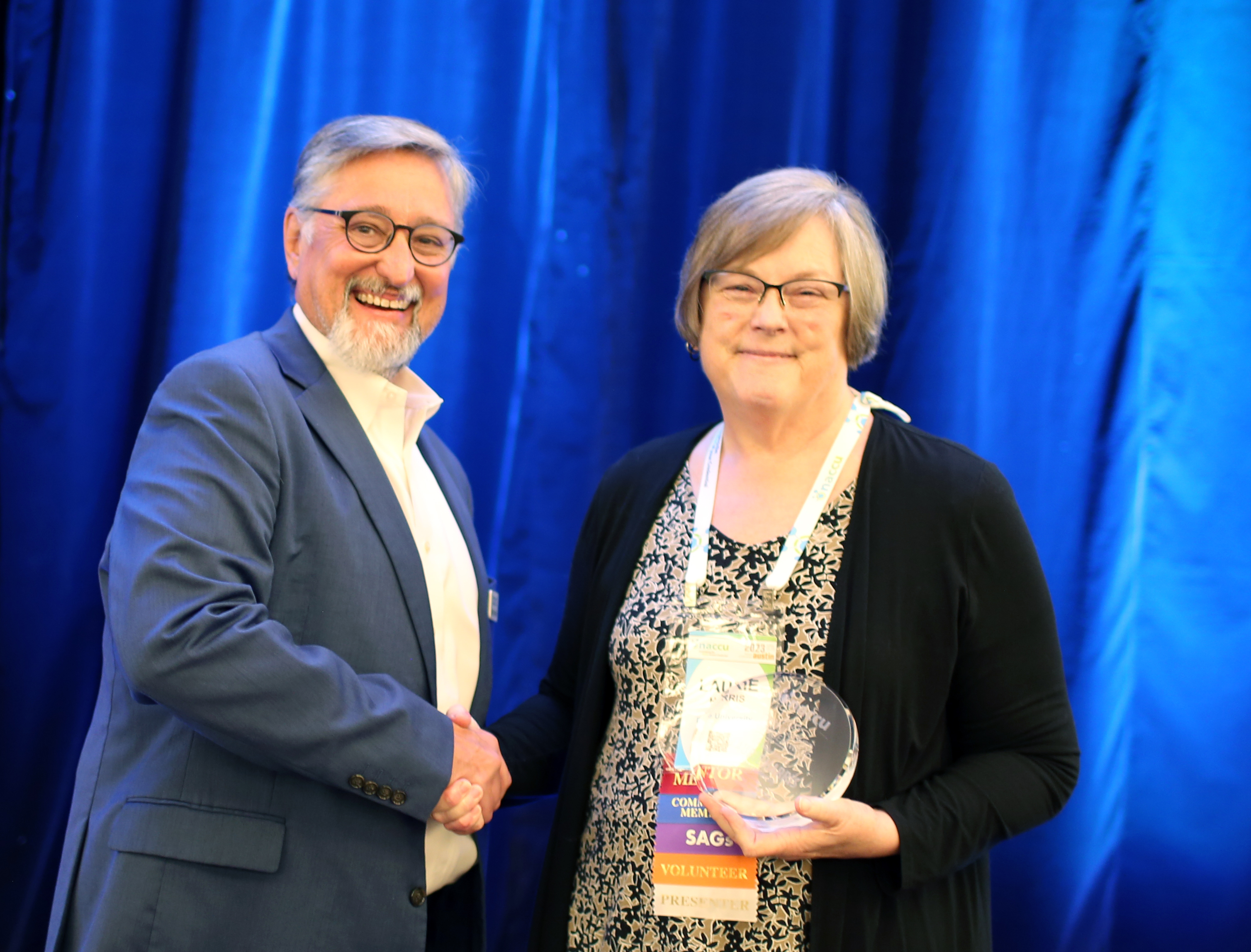 Phoenix, AZ – April 28, 2023 – NACCU is proud to recognize Laurie Harris from Duke University as the recipient of the NACCU 2023 Distinguished Service Award. Steve Swingler, Senior Director of Software Development with NACCU Visionary Sponsor CBORD, presented the award to Laurie Harris at the Awards Luncheon during the NACCU 2023 Annual Conference in Austin on April 19, 2023.
The Distinguished Service Award is presented annually to an individual who has advanced the industry, exhibited entrepreneurial spirit, is an active member of NACCU, is actively involved in R&D, and who is active in the industry through serving on advisory boards and/or actively educating through presentations and sessions.
Laurie Harris has been an active member of NACCU for many years. She was part of a team that was one of the first three schools to implement mobile credentials, and established user content and terms that serve as a model for other programs as they delve into mobile. Since 2019, Laurie has served as a NACCU faculty member for the NACCU Standards and Guidelines (SAGs) program and evaluates the program for improvements after each course. She has served NACCU as a liaison to the Council for the Advancement of Standards in Higher Education (CAS), an initiative that provides NACCU with an assessment and evaluation tool that is recognized throughout the higher education industry's upper administrators, and has elevated the profile and status of the card office. She has been a member of the NACCU Professional Development Committee, served as NACCU Book Club facilitator, a conference moderator, mentor, and presenter. She even authored the Wikipedia article for Campus Cards. Laurie Harris provides excellence in every NACCU program she participates in, and deserves to be recognized at the level of this award for what she has achieved and continues to achieve for NACCU and our industry.
NACCU congratulates Laurie Harris as the recipient of the NACCU 2023 Distinguished Service Award in recognition of her leadership and extensive service and contributions.
About NACCU
NACCU connects campus identification and transaction system professionals with resources to streamline campus operations and enhance the student experience. NACCU's mission is to advance the position of higher education transaction and identity systems through professional development and leadership opportunities for its members to stay current in an ever-changing environment.