NACCU 2023 Best Video Award presented to University of Minnesota Twin Cities
Date posted
April 28, 2023
NACCU connects campus identification and transaction system professionals with resources to streamline campus operations and enhance the student experience. NACCU's 2023 Best Video Award presented to University of Minnesota Twin Cities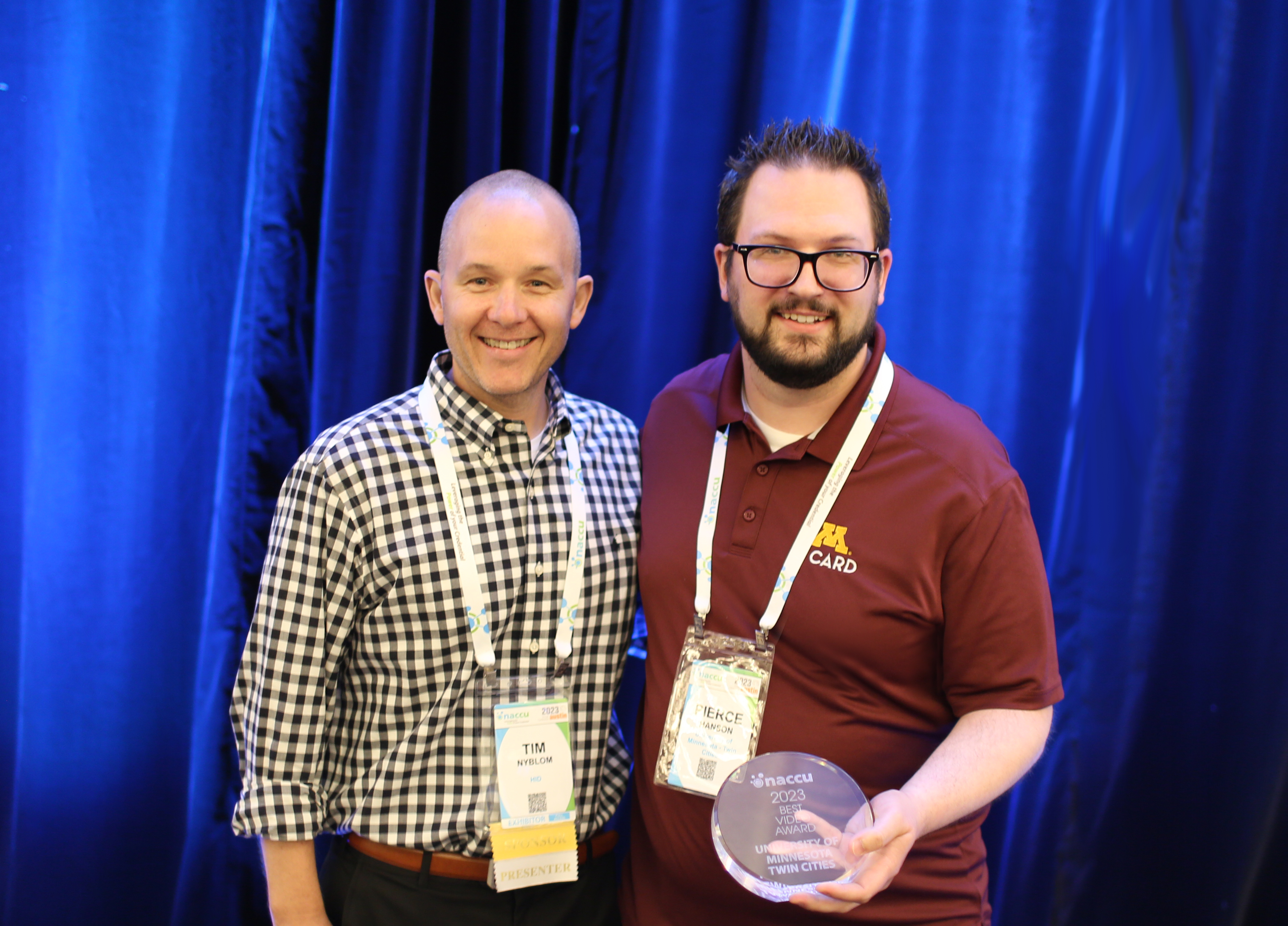 Phoenix, AZ – April 28, 2023 – NACCU is proud to announce that the University of Minnesota Twin Cities has been presented with the NACCU 2023 Best Video Award. Tim Nyblom from NACCU Pinnacle sponsor HID announced the recipient during the Awards Luncheon event at the NACCU 2023 Annual Conference in Austin on April 19, 2023.
The NACCU Best Video Award recognizes an institution's use of video to communicate the purpose and intent of the card center. It may promote use of the campus card and other related technology. This award recipient is selected by NACCU member vote.
The University of Minnesota Twin Cities submitted an outstanding video entry that showcased its innovative use of technology and its commitment to providing the best possible service to its stakeholders. Pierce Hanson, Operations Manager, accepted the award on behalf of the university.
"We are thrilled to receive the NACCU Best Video Award," said Stephen Courchane, Director of the U Card Office. "Our team worked hard to create a video that effectively communicates the value of our card office to the University community, and this award is a testament to that."
NACCU congratulates the University of Minnesota Twin Cities as the recipient of the NACCU 2023 Best Video Award.
Watch the award-winning video at https://www.youtube.com/watch?v=NJ34yD-WA0U
About NACCU
NACCU connects campus identification and transaction system professionals with resources to streamline campus operations and enhance the student experience. NACCU's mission is to advance the position of higher education transaction and identity systems through professional development and leadership opportunities for its members to stay current in an ever-changing environment.