Sched TEST page

NACCU 2023
Austin, TX • April 16-19, 2023
---
Home | Schedule | Registration | Industry Essentials Institute | Exhibitors | Hotel | Scam Alert
---
Quick Links for this Page:

Keynote Speaker
Exhibit Hall
Closing Event
Post-Conference HID Tour
Conference Schedule including Session Descriptions
---
Keynote Speaker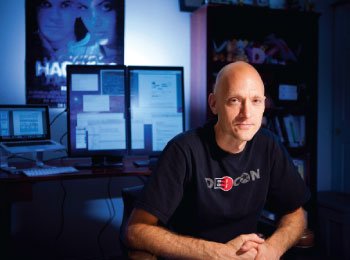 Monday, April 17, 2023
9:30am - 10:30am
We are excited to introduce you to our NACCU 2023 Annual Conference keynote speaker, Dr. Charles Miller.
A former National Security Agency hacker, 4-time winner of Pwn2Own, the "Super Bowl" of computer hacking, and the first to hack both iPhone and Android phones, Dr. Miller gained national attention after he and research partner Chris Valasek hacked a 2014 Jeep Cherokee and took control of the vehicle from more than 10 miles away.
A Principal Autonomous Vehicle Security Architect at Cruise Automation and the former head of the autonomous vehicle security division at Didi Chuxing, Dr. Miller focuses on society's increasing connectivity and the opportunities it creates for harmful intrusions.
He will take you on a detailed, behind-the-scenes journey to illustrate how hackers exploit vulnerabilities. By providing practical suggestions to improve security and deter dangerous online adversaries, Dr. Miller will help you recognize the gravity of this 21st century issue and walk away with solutions for prevention.
---
NACCU 2023 Exhibit Hall
Tuesday, April 18, 2023 2:00pm - 5:00pm
Wednesday, April 19, 2023 9:15am - 12:00pm

Explore all the amazing services and technology available to campus card programs in the NACCU exhibit hall! Check out the companies that have selected their booths so far! Stop at each booth to connect with exhibitors. You'll be able to use the NACCU 2023 mobile app to share your contact information with exhibitors for follow-up.

You'll receive an exhibit hall prize drawing card at the registration check-in desk. Bring it to the NACCU booth in the exhibit hall on Wednesday morning for chances to win amazing prizes donated by our exhibitors! Drawings will be held throughout exhibit hall time on Wednesday, so the earlier you bring your card, the more chances to win!
Win prizes from our exhibitors! Watch this space for more prizes to be added!
Atrium - AirPods (3rd generation) with MagSafe Charging Case
ColorID - (2) $50 and (2) $100 AMEX gift cards
Kanematsu - (2) $50 Amazon gift cards
Smarter Security - (1) $100 Visa gift card
Transact - $100 Amazon eGift Card
---
NACCU Night Out: Closing Event
Wednesday, April 19, 2023
6:00pm - 9:00pm
End your conference experience at Austin's legendary venue, The County Line on the Lake. Enjoy barbeque and drinks with your new and old NACCU friends on the banks of Lake Austin at this indoor-outdoor location featuring a beautiful large redwood deck overlooking the water. It's sure to be a memorable evening!
---
Post-Conference Tour of HID Facility
Thursday A.M. April 20, 2023
8:30 a.m. - 12:00 p.m.
Institutional attendees are invited to attend a free post-conference tour of the HID manufacturing facility. The tour will include refreshments & transportation. Check-in will be at 8:30 a.m. and the tour will depart from the Renaissance at 9:00 a.m. The tour will depart from HID HQ at 11:30am with a return to the hotel. There is no cost to participate in the tour, but registration is mandatory. Add this ticket during your conference registration. Participation is limited and is first-come, first-served.
---
Conference Schedule
Click a session or event for more information.


–

Registration Desk Sunday

Arbor Atrium Foyer

–

Industry Essentials Institute (IEI) ($150)

San Antonio

–

Canadian / International Meet and Greet

Bluebonnet

–

Meet and Greet: Mentors and Mentees

San Antonio

–

Opening Reception

Glass Oaks Ballroom

–

Registration Desk Monday

Arbor Atrium Foyer

–

Breakfast

Grand Ballroom

–

Conference Welcome and Keynote Speaker

Grand Ballroom

–

Card Office Budgets - Let's Put the 'Fun' in Funding

Trinity B

–

Data Analytics- Data Backed Decisions

San Marcos

–

Door Access Policies & Procedures

Nueces

–

Going Mobile with Apple and Android

Bluebonnet

–

If You Build It, They Will Come: Simple Strategies for Guaranteeing Tech Adoption Among Students

Sabine

–

Instantly Issue Credentials with One Secure Platform – Anytime, Anywhere on Your Campus

Trinity A

–

Integration & Automation - Making Your Card System Work Harder For You

San Antonio

–

ITC Session

Pecos

–

Lunch

Grand Ballroom

–

Central ID - Fired Up for a Mobile Only Experience

Bluebonnet

–

HID Presents: Card Issuance Conversation with NC State University

Pecos

–

Monetize Everything

Trinity B

–

On the Road to Mobile

Sabine

–

Planning for the Future

Trinity A

–

The 5 Ws of Access Control

San Antonio

–

UGA and Leaf Credentials: Upgrade to OneCard

San Marcos

–

Utilizing Data to Validate Operational Adjustments

Nueces

–

Building Profitable Merchant Relationships in the Age of Online Ordering

Sabine

–

Creating Futuristic Conveniences for Students while Improving Campus Security

San Marcos

–

Demonstrating Credibility for Your Campus Credential Program

Pecos

–

Expedite the Dining Experience: Using Turnstiles with Touchless Credentials

Trinity B

–

Modernizing Security for Residence Halls

San Antonio

–

Social & Emotional Learning in the Workplace: What my Kindergartener Taught Me

Trinity A

–

Software to Keep You Sane

Bluebonnet

–

Beverage Break Monday

Grand Ballroom

–

ASSA ABLOY session

Bluebonnet

–

Atrium / Brown U Meal Plan Portal

Pecos

–

eXpress badging session

San Antonio

–

I'm Not Sure I'm supposed to be Here: Acknowledging Imposter Syndrome

Nueces

–

Is Leadership Change Time to Look at the Future of Your Card Office?

Trinity A

–

Lessons Learned after Going Digital with Access Control

San Marcos

–

So You Want to Go Mobile - a Discussion with those who've done it

Sabine

–

Using Online Photo and Transact Data for Operational Efficiency at Georgia Tech

Trinity B

–

NACCU Volunteer Interest Session

Sabine

–

Registration Desk Tuesday

Arbor Atrium Foyer

–

Breakfast

Grand Ballroom

–

NACCU High-Impact Training (HIT)

Grand Ballroom

–

Best Practices and Innovative Office Operations

San Antonio

–

Dining & The Card Office: Partners in Success

Trinity B

–

ID Card Issuing Kiosks

Pecos

–

Looking Up to the Cloud

Bluebonnet

–

Sheridan College- Mobile Onecard Journey

Sabine

–

Student Staff vs Professional Staff: Who Does What

Nueces

–

Swarthmore College's Keyless Access and Mobile Credential Journey

Trinity A

–

Transact session Diversity Internship program

San Marcos

–

Campus Parking

Trinity B

–

Combating Campus Silos for Cohesive Card Systems

San Marcos

–

Leveraging Technology to Efficiently Expand Campus Services

Bluebonnet

–

Looking to Big Business for Customer Service Advice?

Nueces

–

Meeting The Soaring Demand for Unattended Point of Sale Options on Campus

San Antonio

–

NACCU Standards and Guidelines: Five Years and Counting

Sabine

–

The Time is Right for the University of North Carolina to Transform their Campus with Mobile Credentials

Trinity A

–

Unlocking the Power of your Card System Data

Pecos

–

Annual Business Meeting Luncheon

Grand Ballroom

–

Adoption of Standards for Security Technology

Trinity B

–

Automated Online Photo Submission

Bluebonnet

–

Autonomous Markets in a University Setting

Trinity A

–

Maximizing GATORONE Card Relationships Before, During, After Orientation

Sabine

–

The Future of Campus Security

San Antonio

–

The Introvert's Guide for Navigating the Exhibit Hall

San Marcos

–

Using Easy Data Analytics to Improve Card Office Efficiency

Pecos

–

Exhibit Hall Grand Opening & Reception

Rio Grande Exhibit Hall

–

Registration Desk Wednesday

Arbor Atrium Foyer

–

Breakfast

Grand Ballroom

–

Corporate Breakfast

Glass Oaks Ballroom

–

Exhibit Hall

Rio Grande Exhibit Hall

–

Awards Luncheon and 2024 Preview

Grand Ballroom

–

Ask The Experts: Atrium

Trinity A

–

Ask The Experts: HID

Trinity B

–

Ask The Experts: TouchNet

Pecos

–

Ask The Experts: Transact

Sabine

–

Round Table Coming Soon!

Nueces

–

Session pending

San Marcos

–

The Move to Mobile - A Small Campus Perspective

San Antonio

–

The Ultimate One Card Office, How Do We Get There From Here?

Bluebonnet

–

Ask The Experts: CBORD

Trinity A

–

Ask The Experts: ColorID

Trinity B

–

Ask The Experts: Entrust

Sabine

–

Central Michigan University - Transition to CloudPOS

San Marcos

–

Migration Meltdown

Bluebonnet

–

Mobile Credentials the Penn State Way - The Road Less Traveled

Pecos

–

Round Table Coming Soon!

Nueces

–

Session pending

San Antonio

–

NACCU Night Out

Meet the bus at the Main Lobby doors

–

Tour HID Facility (Pre-reg required)

Meet the bus at the Main Lobby doors