How I Raised the Profile of our Campus Card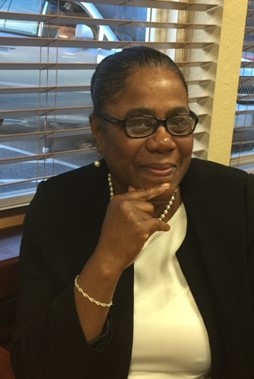 My name is Ramonia Prosise, the TrojanCard Manager at Virginia State University. Virginia State University's (VSU) TrojanCard Program is a tried, tested, and proven program. The program permits our students, faculty, and staff to access buildings, use meal plans in all University Dining locations, purchase goods and supplies at the University's Bookstore, check out materials in the library, use computer centers, and make purchases on and off campus at all approved local area merchant locations.
I joined the TrojanCard Office in 2005, after having implemented and worked with the University's Trademark Licensing Agreement Program and Annual Golf Tournament for more than 15 years. When I joined the office, the University's ID card was only used for meals and copy/print service. We placed the funds on students' cards for these services. Upon determining there had to be a lot more to garner from the use of the VSU identification card, I decided to venture out and register for the next Annual NACCU Conference.
My initial attendance at a NACCU Conference was immediately the following year, in 2006. I met and formed liaisons with so many people from the card industry. I worked with people like Tova Sturmer, Ann Marie Powell, and Kathleen Brugger, and schools like ODU, NSU, SUNY, etc., just to name a few. Kudos to Ann Marie for taking me under her wing. We talked extensively following the conference, as I set out to develop a business plan for a real Card Program at VSU. I was highly impressed with everything other schools were doing with their programs. The NACCU Conference offered so much information I could not even decide which sessions I wanted to participate. I recall wishing I could have inhaled and soaked up everything. The conference was tremendously beneficial.
During the conference, I learned how extensively other schools were using their cards off campus, and wow, what a rush. When I returned to the campus, I immediately surveyed the student body to determine which local merchants they preferred to add first. Before the end of 2006, I invited our platform provider, General Meters Corporation (GMC), now Touchnet, to the campus for assistance with soliciting and contracting merchants. Before the representative left, we had secured five external merchant contracts and before the end of the year, I had secured another 15 merchants to accept the University's ID as a prepaid debit card. I then set my goals and desires to obtaining a minimum of five new merchants annually. Good news travels fast, because soon students and local area businesses were contacting my office about the External Merchant Program. Students contacted us to give names and addresses of prospective merchants, and the businesses to see how they could participate.
I was on fire to make VSU's Card Program the best that it could be. I immediately started working with other departments to enlist their support to help grow the card program. In the fall of 2007, I had contracted five new merchants, and implemented the University's Inaugural Merchants Bazaar (see above). The Merchants' Bazaar was really a fabulous success, because all participating merchants were invited to display/share their product(s), including in-house merchants. I secured gifts and prizes from the participating merchants, to use for drawings. Almost everyone in attendance left with something.
I then started working with Pepsi Bottling Group to add card readers to the University's Beverage Vending machines. We initially added 20 and resolved to do ten more annually until all machines had readers. I did the same with Canteen Vending, to add card readers to all snack vending machines on campus. Our Schools started getting involved, by using ID Card Readers to record participation at events and programs.
Moving forward to today, and during the pandemic, my latest ventures were with Online Photo Submission and Mobile Ordering. Both programs rolled out over the past year, and they have been very successful. With the assistance of NACCU resources, i.e., the Vault, Virtual Webinars, etc. before we knew it, our VSU ID Card Program is now comparable to those at other schools.
When another innovation is being rolled out in our industry, I always learn about it through NACCU. In the past three years, developments such as mobile credentials, online photo submission and mobile ordering have made me realize how raising the profile of our campus ID operation never ceases. Through long-standing programs like the NACCU Annual Conference and webinars and new initiatives like naccuTV and the Positive IDentity blog, I am thankful that NACCU keeps me well informed and trained on all of these advancements.
For more information on how to raise your ID Card Profile on Campus, please feel free to contact me at rprosise@vsu.edu.
Ramonia Prosise has been with Virginia State University since May 1981, where she currently serves as the director of the VSU TrojanCard. She also serves as a member of the NACCU Board of Directors since 2019, Liaison to its Ambassadors Committee, and is a member of the VSU Staff Senate. With over 40 years of higher education experience, Ramonia has written several successful grants, secured several scholarship endowments for VSU, successfully implemented the University's Annual Golf Tournament, and established the University's Trademark Licensing Agreement Program. She is also a member of the First Baptist Church Usher Board Ministry, where she serves as Secretary over 20 years. She enjoys reading, watching old movies, and writing non-fiction/paranormal stories.