Thoughts on NACCU Evolution from a Past Leader
Posted By Jessica Bender, Auxiliary Services Manager at Palm Beach State College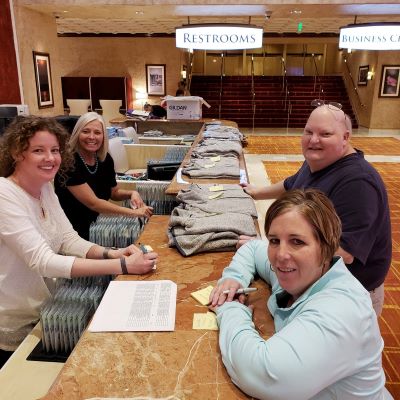 I think we have all seen many posts on what has changed due to the Pandemic and the results of the Pandemic and on and on. BUT, that is not what I wanted to talk about. While the Pandemic has certainly played a role in the Evolution of NACCU, there has been a lot happening in the industry as well.
I have been attending NACCU conferences since around 2004. I believe my first conference was in San Antonio, Texas. I was newbie to the card office and to NACCU. I just wanted to take it all in. I have always been somewhat of an introvert and not one to be in the spotlight but I have always valued education and I think that is what attracted me to NACCU. In 2012 I was elected to a seat on the NACCU Board of Directors. During that time on the Board, I spent a lot of time listening and learning as I was still relatively new to leadership within NACCU.
The NACCU Offices were located in Phoenix and the majority of the staff worked at that location. Lowell Adkins had served the Association as the Executive Director since 2004 and brought a wealth of knowledge and history to the Association. Physical credentials (cards) were still the focus with conversations, and conference sessions were geared toward targeting the right path for technology, including physical access control and payment transactions. Marketing still focused on flyers, posters and brochures and email was the best way to communicate with students outside of the physical methods.
In 2016, I was elected to the position of President of the Board of Directors. This was also the year that NACCU welcomed Dawn Thomas to the role of Executive Director, bringing a new energy and different perspective to the association and the leadership. Dawn's experience in higher education and student development spurred some different thoughts. In the technology sector, Apple Pay was beginning to gain traction and campuses were noticing changes in student behavior and preferences. The discussion for credential types began moving from the physical card to the mobile credential and marketing sessions began changing to focus on Instagram, Snap Chat, and video marketing. The NACCU office gradually shifted from a physical office space to a remote work environment, which allowed NACCU to reduce operational expenses and focus resources on meeting the needs of the members.
I ended my tenure on the Board in Spring of 2018 and was part of new conversations regarding the direction for NACCU. In 2018, NACCU announced a refreshed brand, logo, mission and value proposition. The NACCU Board recognized that there was a change from physical credential to identity management and that there was more to our world than just a "card." The new value proposition more clearly described the focus of the organization. Though the word "card" is in our roots, our industry and what our NACCU members actually do on their campuses encompasses so much more than the campus card. The new Value Proposition is "NACCU provides members access to a network of campus identification and transaction system resources to integrate and streamline campus operations, and enhance the student experience."
I was so excited to see that the value of the student experience and all of the things that we touch in our daily work on campus more clearly defined. The spring of 2020 and the Pandemic brought more changes to NACCU and I think some positive changes that will live on. The NACCU family came together to support and educate each other, share best practices and lean on one another during difficult times. While many things have changed within NACCU and within the transaction system industry, one thing has remained steady in the many years that I have been involved – NACCU means family. NACCU has helped me to grow as a leader and as a professional within the industry. I know that there is always someone I can call for advice or recommendations and I know that despite not meeting in person for 2 years, we still remain connected. I look forward to 2022 and seeing all of my NACCU Family.
Jessica Bender is a former NACCU Board of Directors President and remains an active committee member. She has been at Palm Beach State College since 2007 and currently serves as Manager of Auxiliary Services. She has over 20 years higher education experience.