Meet your NACCU Board of Directors

This is the latest installment of the NACCU series highlighting our association volunteers. NACCU provides programs and services to our members, many which would not be possible without the dedication and commitment of our volunteers. The leaders on our Board are deeply committed to NACCU and to continuing to advance our association to meet the needs of our members.

Name: Richard Tamborelli
School: Rhode Island School of Design
Professional Role: Associate Director Card Services
Board Role(s): President
What did you do before you worked in the campus card industry?
Prior to transitioning to the card industry in 2003, I was a Patrol Sergeant for our campus Department of Public Safety (1993 to 2003). Before I began working at RISD, I worked in food service. I ran a few pizza shops and was a General Manager for a local sandwich shop chain.
When you tell your friends/family that you serve on the board for NACCU, what do they say or ask?
Well, when I explain it is related to cards, I often get "So its a card board?" lol...
Other than that, a brief explanation about the campus card industry, and how far-reaching it can be, often lends itself to an understanding of my work on the Board.

Where was the first NACCU conference you attended?
My first conference was in 2004 in San Antonio, Texas. I was overwhelmed to say the least. Initially it was hard for me to wrap my mind around how everything ties together.
What was your first NACCU volunteer position?
My very first volunteer role was as a session moderator during NACCU 2013 at Walt Disney World. However, it was at that conference that I decided to volunteer to be on a committee.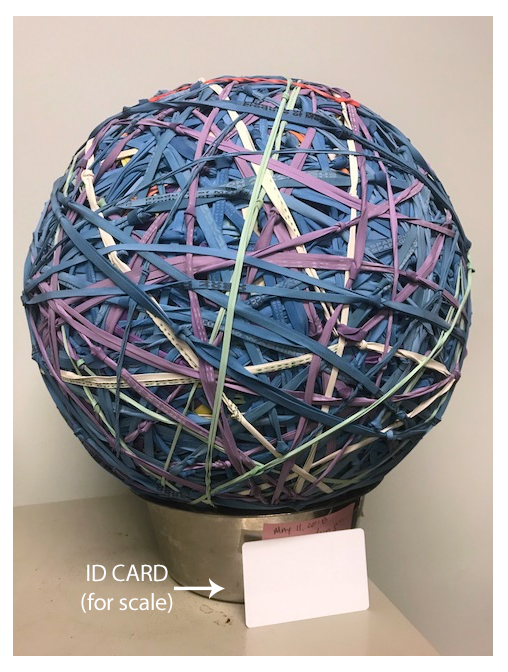 What is a hobby that you have that may surprise NACCU members?
I am a fan of 60's & 70's muscle cars, but that may not be a surprise to many. I am, however, the proud owner of a 42-pound rubber band ball!! The ball was started by a co-worker back in September of 2007. When my friend left RISD he passed the ball on to me. I have had the ball for about three years now. I started to weigh and measure it every six months or so. From April 2017 to May 2018, I added about 10 pounds and 4 inches to the ball!
What would you say to someone who is considering volunteering with NACCU?
Raise your hand high and do it! This association is full of kind, nurturing people who are eager to share and help. Volunteering keeps that momentum rolling. I quickly learned I have a lot to share and a lot to learn. Step outside that comfort zone and you will see too.
What impact has serving on the NACCU Board made on you, personally and professionally?
Serving on the NACCU Board has been an amazing experience for me both professionally and personally. Personally, I feel blessed to work with an amazing group of people from all around the continent! The dynamic is energetic and rewarding. I am fortunate to have the full support of my employer and am honored to represent RISD outside of my role on campus. I believe serving on the Board has enhanced my skills as a manager as well as a leader for RISD and for our card program.
We hope you have enjoyed learning about Richard! Please look for a new edition of "Meet Your NACCU Board of Directors" next month!