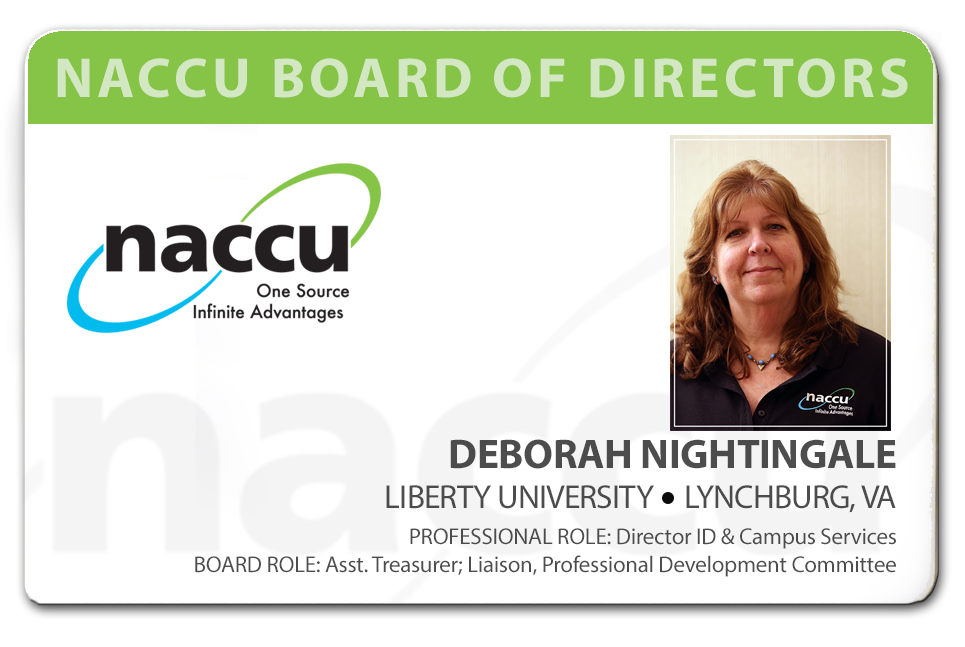 Meet Your NACCU Board of Directors: Deborah Nightingale
This is the latest installment of the NACCU series highlighting our association volunteers. NACCU provides programs and services to our members, many which would not be possible without the dedication and commitment of our volunteers. The leaders on our Board are deeply committed to NACCU and to continuing to advance our association to meet the needs of our members.

Name: Deb Nightingale
School: Liberty University
Professional Role: Director ID & Campus Services
Board Role(s): Member, Asst. Treasurer, Liaison for Professional Development Committee

What did you do before your worked in the campus card industry?
I began work in the campus card industry in 2001 at the University of Southern Maine, where I previously served in Computing Technologies as the Manager of Administration & Sales (campus computer reseller)
When you tell your friends/family that you serve on the board for NACCU, what do they say or ask?
Usually they ask "What is NACCU?"

Where was the first NACCU conference you attended?
Reno, 2002
What was your first NACCU volunteer position?
Session moderator
What is a hobby that you have that may surprise NACCU members
Growing grapes & cultivating the world's most persistent weeds!
What would you say to someone who is considering volunteering with NACCU?
Volunteering is a wonderful opportunity to engage more fully in your organization…it is a member driven organization and the benefits of volunteering are both personally and professionally rewarding.
What impact has serving on the NACCU Board made on you, personally and professionally?
I have seen first-hand the depth of care, genuine concern, hard work, and quality leadership the Executive Director, NACCU Staff, other board members, corporate members, and fellow volunteers contribute to making NACCU a truly high-quality organization. Their efforts to stay true to the mission, vision, and values of NACCU are always at the forefront of each and every decision. I am truly humbled and professionally enriched by the opportunity to serve the members of NACCU as I learn new skills and am afforded new opportunities to connect with other members and serve to help them reach their personal and professional goals. I always seem to receive back more than I can give and am excited for the future of the NACCU community.
We hope you have enjoyed learning about Deborah! Please look for a new edition of "Meet Your NACCU Board of Directors" next month!