Two Perspectives, Part 2: Why I Volunteered to Serve on a NACCU Committee
Date posted
February 6, 2020
Posted By:
Two Perspectives, Part 2:
Why I Volunteered to Serve on a NACCU Committee
William Bourlier
Assistant Manager USCard Services
University of Southern California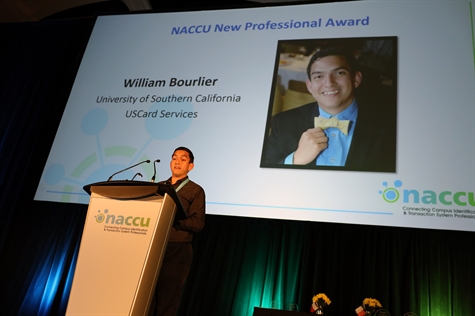 My first ever conference experience was attending the NACCU San Francisco Conference in 2016. I learned so much during my first NACCU conference and attending the New Professional Institute. The Mentor Program was incredibly helpful to help guide me through the conference and make connections with other attendees. Through making those connections with other attendees, they recommended that I should volunteer for a committee. When the email came out for volunteers to serve on a NACCU committee, I jumped at the opportunity.
I was fortunate in 2015 to be selected to join the Volunteer Development Committee. I really appreciate, the camaraderie and fellowship among the members of the committee. It gave me an opportunity to interact with colleagues from across the country and gain insight into different perspectives. I found that being part of a committee gave me a natural connection with other people in my specialty and allows me to feel a sense of community. It had contributed greatly to my reorganization that NACCU is my organizational home as well as to contribute to its high-quality educational programs, resources, services, and tools.
Committee volunteerism is the cornerstone of NACCU's' courses, activities, and overall organization. Most committees spend a fair amount of time simply brainstorming and discussing ideas. This allows for an open conversation about the issues and challenges members are facing, and helps provide solutions to problems that will benefit the membership at large. It simply provides a venue for you to listen and learn from others and helps you realize that the difficulties or questions you are experiencing are similar to those of your peers.
As we approach NACCU's annual conference in April, I encourage you to consider joining a NACCU committee. One of the things most higher education administrators have in common is our desire to serve. Whether it is in the community, within a charity or our profession, serving on a NACCU committee allows you to gain access to different perspectives from a variety of people, along with your specific area of interest. There are many committees from which to choose, so search for the one that best suits your needs and utilizes your skills and talents. If you have any questions, please reach out. If you are considering joining a committee please sign up to attend the March 3rd webinar to learn more. Service on a NACCU committee does require an investment of time. Volunteering opens up a whole new perspective of what it means to attend NACCU's annual conference. It is the difference between attending and participating.
Learn more about volunteering to serve on a NACCU committee!