The University of Alabama presented with NACCU 2023 Best Marketing Campaign Award
Date posted
April 28, 2023
The University of Alabama presented with NACCU 2023 Best Marketing Campaign Award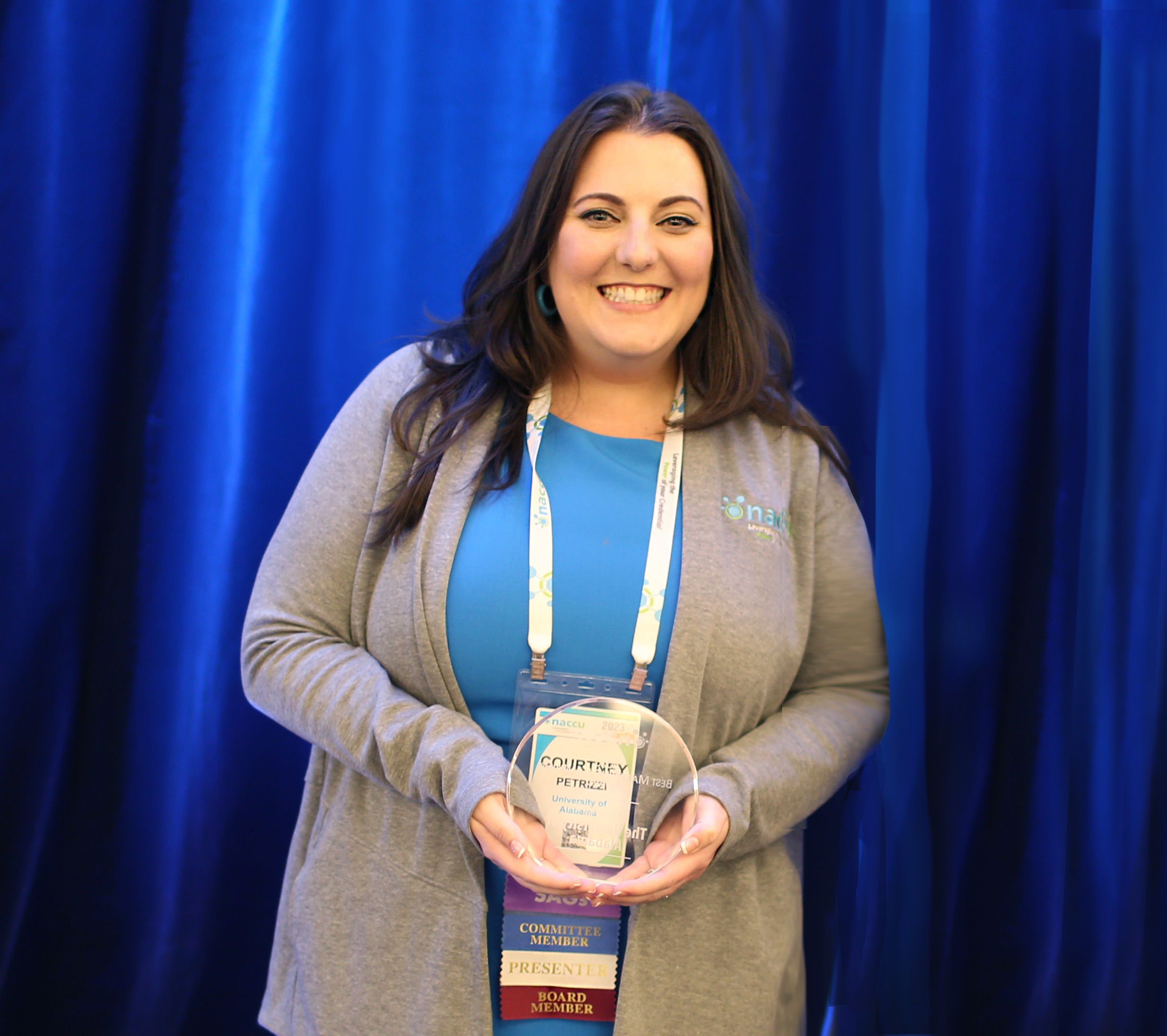 Phoenix, AZ – April 28, 2023 – NACCU is proud to announce that the University of Alabama is the recipient of the 2023 NACCU Best Marketing Campaign Award. The award was presented to Courtney Petrizzi, Action Card Services Analyst, at the Awards Luncheon during the NACCU 2023 Annual Conference in Austin on April 19, 2023.
The NACCU Best Marketing Campaign Award recognizes an institution's use of a variety of marketing efforts to enhance their campus card's visibility and value on campus.
The Action Card team was looking to engage incoming students to participate in Online Photo Submission and mobile card download prior to orientation and move in, increase completed student account percentage prior to move-in and find other opportunities to increase complete ACT Card set up and card usage understanding.
The staff created a marketing strategy to achieve these goals, focused on working alongside Bama Bound Orientation to be present at check-in to validate and demonstrate mobile credential usage. Automated calling and emails were utlized prior to orientation and Action Card information was included on the Bama Bound Orientation check list and emails, as well as in UA Housing information. The Action Card website and social media accounts were also used in collaboration with other communications. Texting and individual phone calls to incoming students provided additional touchpoints. At the Action Card table during orientation, students recieved a Bama Cash elephant pen and an informational flyer. As of August 16, 2022 for Housing move in, there were a total of 7,798 students that had completed both photo submission and mobile card provisioning, creating a 99.5% ACT Card completion for move in.
NACCU congratulates The University of Alabama as the recipient of the 2023 NACCU Best Marketing Campaign Award.
About NACCU
NACCU connects campus identification and transaction system professionals with resources to streamline campus operations and enhance the student experience. NACCU's mission is to advance the position of higher education transaction and identity systems through professional development and leadership opportunities for its members to stay current in an ever-changing environment.