Exhibitors

NACCU 2024
Covington, KY • April 14-17, 2024
---
Information for Exhibitors
Exhibit hall sales will open in November 2023.
Companies must register for booth space to attend the conference.
Corporations/companies may NOT attend the conference if not exhibiting.
---
Exhibit Hall Floor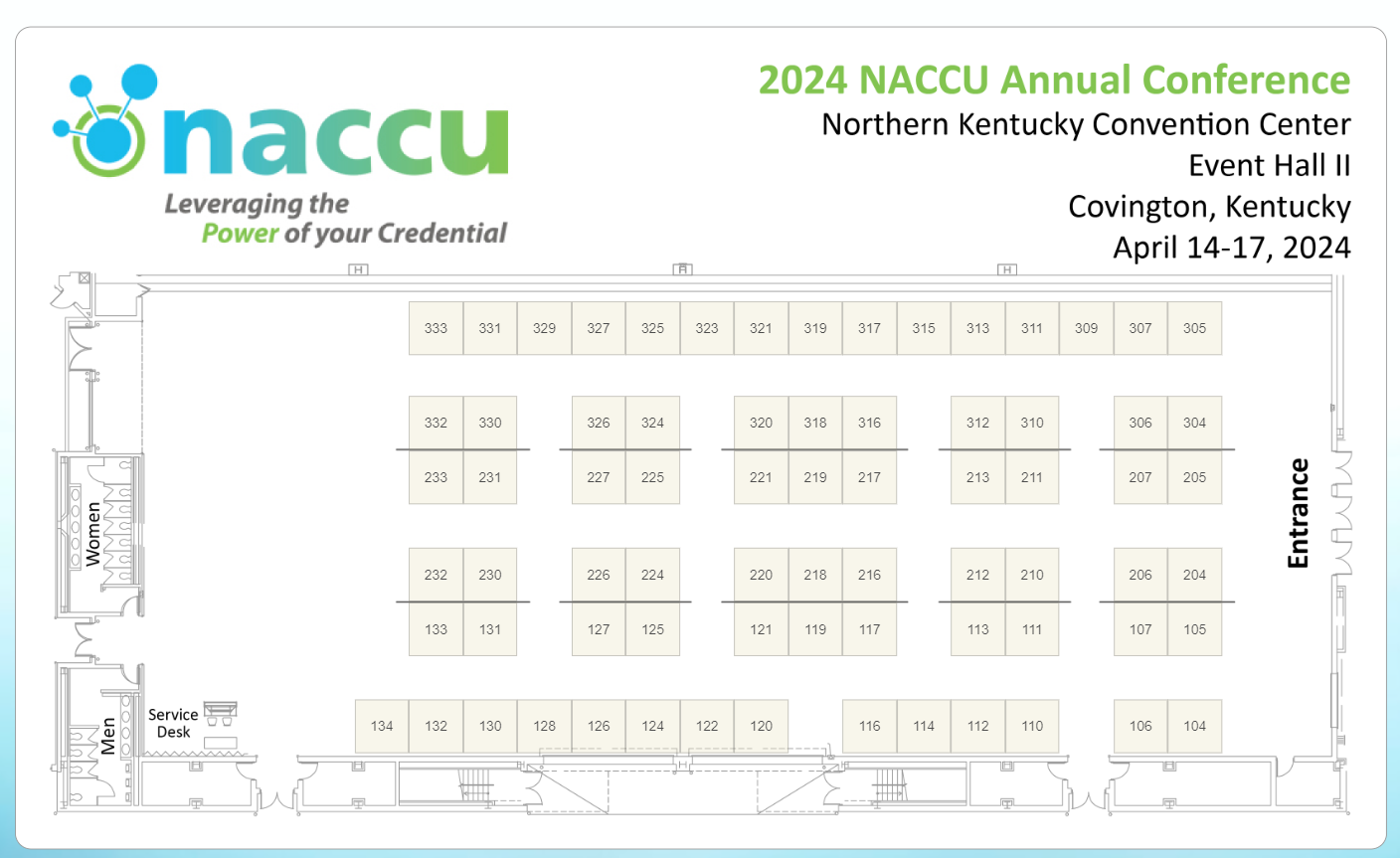 ---
Registration Fees & Options
Companies are required to exhibit in order to attend the conference.
Exhibit Booth Space Registration

NACCU member $2,000
Non-Member $3,000
Individual Exhibit Hall Pass - $200 (one included with each 10X10 booth space purchase)
Individual Exhibitor Meal Package - $475 Includes breakfasts, lunches, and breaks on Monday, Tuesday, and Wednesday
Opening Reception - $75 per person
NACCU Closing Event - $75 per person
---
Visibility
There is no better way to reach the higher education credentialing/transaction market than to exhibit at the NACCU Annual Conference.
The exhibit hall will be open for nearly 6 hours of exclusive, dedicated time, offering a good flow of attendee traffic.
Exhibitors are listed in the conference program
Logo, company name, and URL of exhibitors are published in the NACCU 2024 mobile app
Exhibitors are listed on the exhibit hall map sign at exhibit hall entrance
One month prior to the conference, exhibitors will receive an electronic file containing contact information for conference registrants to be used for pre-conference mailings. (Attendees have the option to opt-out of inclusion in this file.)

---
Networking Opportunities
Exhibitors will receive one exhibit hall only pass with each booth space purchase. This badge allows access to the exhibit floor only. Additional exhibit hall badges may be purchased in advance for $200 each. In addition, we encourage at least one person from every company to register for the full conference. This enables you to learn what is happening on campuses today and helps you in preparing to meet the needs of this constantly changing marketplace.
---
Reasons to Exhibit at NACCU 2024
Who are the attendees at the NACCU Annual Conference?
Our attendees are the people on college and university campuses who manage the ID card program and related services, including access control, IT, security, banking, POS, off-campus merchant programs, and more.
In some cases, these programs are huge departments with many employees, and in others, there is one person who wears many hats - and everything in between. Whether your company is looking for accounts with large clients or for personal relationships with smaller institutions, there is something for you at NACCU.
Because each institution has its own structure, these programs can fall under Auxiliary Services, dining, student services, campus security, finance, or other departments.
How many individuals attend NACCU?
There are typically between 500-600 individuals in attendance.
What companies exhibit at NACCU?
We have a wide variety of exhibitors. The list below includes a sample of types of companies that exhibit or that have exhibited at NACCU. If you do business - or want to do business - with the higher education campus card market, which encompasses transaction processing, campus security, access control, identification management, and more, consider exhibiting at NACCU!
Access control services and equipment
Banking institutions
Biometrics
Camera services and equipment
Campus card system providers
Campus security solutions
Card production services and equipment
Consulting services
Event transaction management
Identification management services and software
Kiosks
Laundry
Locker systems
Locks (online & offline)
Loyalty reward programs
Mobile credentials
Off-campus POS options
Online photo submission
Pay-to-print
Payment processing
POS
Print services and equipment
Promotional products
Security
Software development
Student payment apps
Vending
Video surveillance
Wearable access solutions
And more!
---
Exhibitor Schedule
MONDAY, APRIL 15, 2024
12:00PM – 6:00PM Exhibitor Move-In


TUESDAY, APRIL 16, 2024
8:00AM – 1:00PM Exhibitor Move-In
2:00PM – 5:00PM Exhibit Hall Opening with Break
WEDNESDAY, APRIL 17, 2024
8:00AM – 9:00AM Corporate Breakfast
9:15AM – 12:00PM Dedicated Exhibit Hall; Break/Drawings
12:00PM - 5:00PM Exhibit Hall Move Out

We will see you in Covington!