James Pete, Georgia Institute of Technology, presented with NACCU's 2018 Distinguished Service Award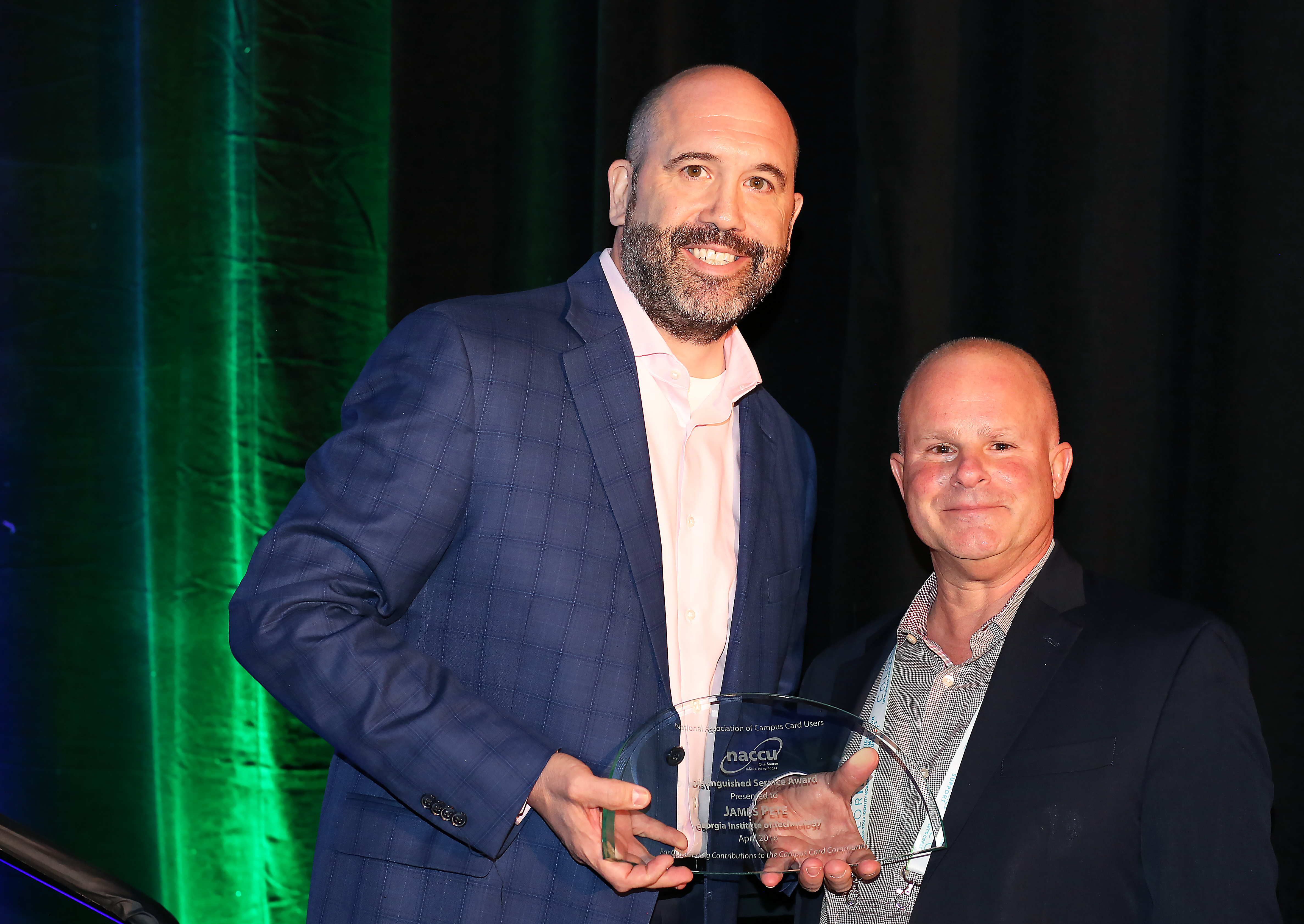 Phoenix, AZ – May 14, 2018 – James ("Jim") Pete received the 2018 NACCU Distinguished Service Award during the 25th Annual NACCU Conference in Reno on April 25, 2018 from ASSA ABLOY's Angelo Faenza.
The purpose of the Distinguished Service Award is to recognize individuals who have made significant contributions to their campus, the Association and the campus card industry as a whole.
Jim is the Deputy Chief Information Officer for Campus Services at the Georgia Institute of Technology. He is all about team effort with Campus Services and partnerships on and off campus. His accomplishments during his tenure at Georgia Tech are extensive and include creating the first Georgia Tech "BuzzCard" campus card program. Jim also championed the next phase of the campus card program by enabling smart contactless credential technology.
Most recently he has begun initiating a $13 million-dollar, 4-year project to re-implement physical access control at Georgia Tech. The project involves transitioning three existing systems of records to a single platform. Jim has also recently collaborated with the Georgia Tech Athletic Association, Sodexo, and Blackboard to deploy the Sequoia Point-of Sale platform throughout all campus athletic facilities.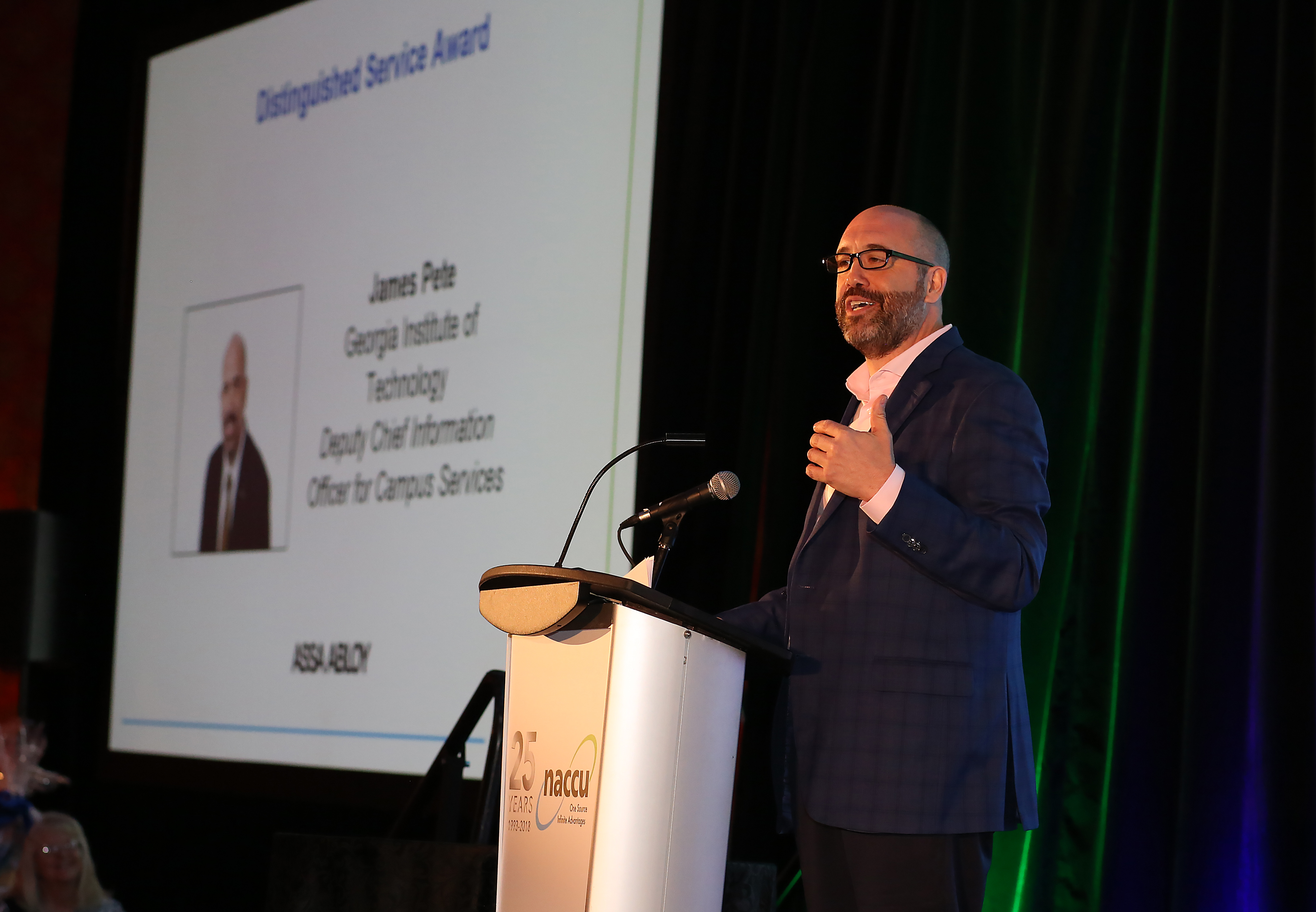 He understands the importance of sharing this knowledge with others and this is evidenced by his participation at conferences, training events and webinars.
His service and dedication to NACCU has been tremendous. He has only missed two NACCU Annual conferences since attending his first in 1997. During this time, he served on numerous committees and the Board of Directors as Treasurer, then President. Accomplishments while serving on the Board include the development of an Association Reserve Policy, implementation of a five-year budget forecasting model, crafting a new Committee Guidelines and Responsibilities framework, and leading the planning activities for the 2012 conference held in Seattle, Washington.
Jim has been a leader, innovator, visionary, and devoted member of NACCU and our industry. NACCU congratulates James Pete as the recipient of the 2018 NACCU Distinguished Service Award.
About the NACCU Distinguished Service Award
The NACCU Distinguished Service Award, sponsored by ASSA ABLOY/PERSONA, is presented to recognize an individual who has made contributions not only to a particular campus, but to the card services industry as a whole — raising the stature of the profession. The recipient must demonstrate contributions to the industry through a combination of any or all of the following: Participation in the research and development of card-related technologies; development of solutions that have been shared with the industry; membership on advisory boards; NACCU volunteer; other professional association volunteer; product testing; involvement in industry activity that is above and beyond an individual's job description; demonstrated courage of convictions to take a risk — a pioneering spirit; published material; presentations.
About NACCU
NACCU provides members access to a network of campus identification and transaction system resources to integrate and streamline campus operations, and enhance the student experience. NACCU's mission is to advance the position of higher education transaction and identity systems through professional development and leadership opportunities for its members to stay current in an ever-changing environment.