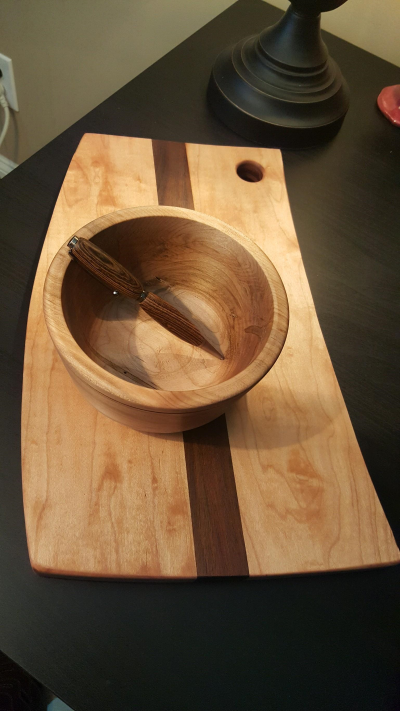 Some of you are aware that I recently started to learn woodworking. Having had no experience with woodworking since middle school shop class, I lacked both the tools and the know-how. Yet two months later, I've already completed three projects. This far surpassed my expectations when I started this hobby. So how did I do accomplish so much in such a short period of time?
The first step I took was I found Mann Tool & Supply in West Columbia, SC, which is in the next town over from me. They offer several different woodworking classes. Normally, their classes are booked at least a month out. But they had space available for a beginner's bowl turning class later that week, so I jumped on it. The class was made up of six students and two instructors. After a five-hour class that Saturday, I walked out with a wood bowl I crafted myself and an experience I'll never forget. I was hooked.
I also reached out to an 85-year-old retired doctor I know from church. I've known for years that he had a woodworking shop at his home. On many occasions, I talked myself out of asking him to teach me for reasons that weren't valid. When I finally contacted him about learning woodworking, he said he was honored that I asked him. We worked once a week for about a month on a cutting board made of maple and ipe. We used every machine he had in his shop. While he gave me access to all the tools, his instruction was the most valuable.
I followed that up with another three-hours class at Mann Tool where I turned a pen out of bocote wood. We got to choose the wood from the pile of "blanks" and I saw this one that was a unique dark wood. It wasn't the best-looking piece of wood, but I thought it would be interesting to try. It turned out that under the surface was this tiger stripe-like grain that everyone else in the class "oohed and aahed" about. At the end of the class, the instructor invited me to join the Palmetto Woodturners Club that meets monthly.
Learning a new hobby is like growing as a professional. These three experiences above are very similar in what you receive as a member of NACCU.
To learn a new skill, you need instruction

. This could come in the form of a 60-minute web conference or the NACCU annual conference. We need to hear from experts who have already done what you're attempting to learn and can share the tips to look out for.

To learn a new skill, you need a mentor.

You can find a mentor through a formal program like NACCU's Mentor Program that takes place each year at the annual conference. Or you could approach someone within the NACCU community and ask them to mentor you. Trust me – they would be honored.


To learn a new skill, you need a community.

Campus card/credential offices often have small staffs – some may have only one fulltime staff person. That alone can feel isolating. Being a part of a community isn't about paying to be a member – it's about engaging in the learning process by actively taking the next step alongside others.
To learn more about our field, we each must step out of your comfort zone. Like that rough piece of bocote wood, the best opportunities often are the ones that involve some risk. NACCU is rich with great educational opportunities and resources, experts in the higher education card industry and a welcoming community ready to support you. So don't wait – what's the next step you should take in NACCU?
John Ogle serves as membership engagement manager of NACCU and has over 20 years of higher education and association management experience.