Life Before NACCU... Almost Famous
Date posted
October 8, 2021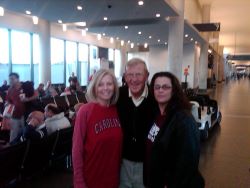 As you may be aware, my professional work experience started in higher education. Specifically, I worked in student housing. My last position on a college campus was supervising women's housing at a state flagship university in the South. Eons ago, I thought I wanted to be a director of housing. My last summer working on a campus (I did not know it was my last at that time), I had an opportunity to attend an intensive, competency-based institute in Florida for a select group of 30 young professionals who were deemed committed to the advancement of campus housing. I left that experience focused and energized… because it taught me that I did NOT want to be a director of housing.
Timing is everything, right? The day that I returned to campus from the institute, I stopped to see one of my mentors to let him know the epiphany I had at the workshop. Before I could even share with him, he handed me an advertisement for a job that had been faxed (I said it was eons ago!) to him that morning. The position was with a national higher education association as a director of education and research. While I was working on my EdD at the time, I did not think I measured up to the job that he had just suggested I apply. Regardless, I took a chance, and two weeks later I was submitting my resignation to the university and moving to the association world.
It was in this first association job that I found my passion for working with higher education professionals in training and development activities. I spent 18 years with this association, and my job changed four times while I was there. I loved that I had the opportunity to learn so many facets of the association world in this company. But what has been most interesting to many are all the "famous" people I had the opportunity to meet. You see, for about 13 years, I traveled the country planning and producing showcase and educational events. Seven weeks in a row, every fall, there was a regional conference somewhere with lecturers, bands, novelty acts, solo artists, comedians… some that eventually became household names. College and university students would descend upon some second-tier city for four days of performances and sessions to aid them in programming for their campuses. In my time, that was just over 5,900 acts… and that does not include the performers at the annual convention or other smaller showcase events.
So what does this have to do with NACCU? While I am sure I hosted events with many acts you would never know, there were many whose IDENTITY you do know. These acts were all trying to make a living, or make it BIG. The best way to do that was get noticed in the college market. If 18-23 year-olds wanted to see you perform, there was a chance to book tours, and maybe be seen by a higher-profile agent/agency. This could change performers lives. I joke that someday I will write about my experiences during that time in my life… I have stories for days. Until that time, I will just recount a few of the performers that I have seen through my work.
Check out the list below… can you identify which person below I have not actually met? The first NACCU member to contact me with the correct answer of whom I have not met will get a special gift sent from me. 😊 Next week, I will reveal how/when I met the people below, and will disclose who in the list below I did not meet.
Zac Brown Band (anyone remember "Chicken Fried'?)
Donna Summer (singer/songwriter)
Mat Franco (magician who won America's Got Talent one season)
Harold Ford Jr. (former DLC chairman)
Phil Vassar (singer/songwriter)
RETTA (actress and comedian)
Colin Quinn (from MTV's Remote Control and SNL)
Aidy Bryant (SNL)
Craig Melvin (Today show host)
Roy Wood Jr. (comedian)
Vince Gill (singer/songwriter)
Dikembe Mutombo (former NBA player)
Henry Rollins (actor/singer)
Anthony Rapp (actor/singer)
Ric Flair (former WWE wrestler)
Darius Rucker (singer/songwriter)
Dane Cook (comedian/actor)
Dennis Haskins (actor; AKA Mr. Belding)
Nev Schulman (TV host... no catfish here...)
Carolina Rhea (comedian/actor)
Lou Holtz (former college football coach/broadcaster)
Reba McEntire (singer/songwriter)
Julian Bond (former chairman of NAACP)
Darrell Hammond (actor and SNL talent)
Mick Foley (former WWE wrestler)
Jimmy Fallon (Tonight Show host)
Howie Day (singer/songwriter)
Dustin Diamond (actor/comedian)
Geoffrey Tambor (actor)
Reichen Lehmkuhl (former winner on Amazing Race)
Jeff Dunham (comedian/ventriloquist)
Jason Ritter (actor/producer)
Tommy Hilfiger (designer)
Collins Tuohy (sister on The Blind Side)
Kara DioGuardi (songwriter and former American Idol judge)
Lance Bass (NSYNC band member)
Snooki (from The Jersey Shore)
Ying Yang Twins (hip hop duo)
Daniel Tosh (Tosh.0, anyone?)
Nick Cannon (actor and TV host)
Jesse Ventura (former Minnesota governor and WWE wrestler)
Vanessa Carlton (singer/songwriter)
Dawn Thomas is the CEO of NACCU since 2016. She has worked in higher education and with associations for 25 years.