Meet your NACCU Volunteers: Bankhim Patel
Date posted
March 28, 2022
Meet Your NACCU Volunteers
Bankhim Patel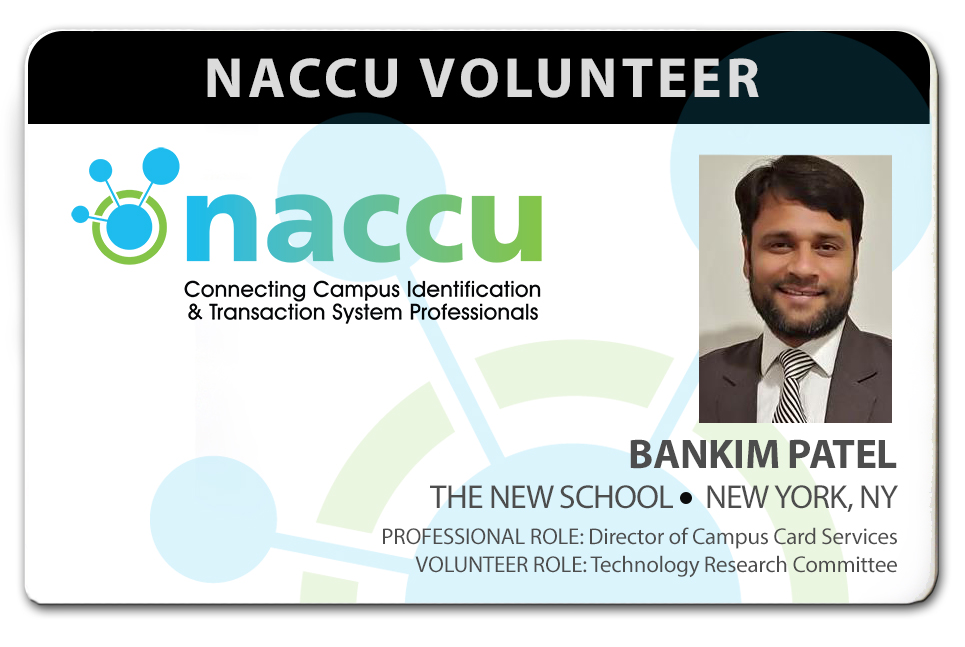 This is the latest installment of the NACCU series highlighting our association volunteers. NACCU provides programs and services to our members, many which would not be possible without the dedication and commitment of our volunteer leaders. Volunteers, whether they are a committee member, a Board member, or an onsite volunteer at a conference, are all important in making NACCU volunteer-driven programs an exceptional experience for our card industry peers.
Campus Card Information
Name: Bankim Patel
School: The New School
Volunteer Role: Technology Research Committee
What is your role at your institution?
I am the Director of Campus Card Services. I work with our wonderful coordinator along with two most valuable student assistants. Our office issues the Newcard first-time and replacement cards, manages hardware for on-campus cafeterias and vending machines, helps with the administration of campus meal plans and Newcard Cash voluntary declining balance, and oversees the off-campus vendor program. I am a system administrator for the Heartland OneCard and MyPhoto for The New School. We support our Parsons Paris campus for their ID card needs, too.
Where was the first NACCU conference you attended?
My first conference was in 2018 in Reno, Nevada.
What is your favo(u)rite thing about volunteering with your NACCU committee?
I am thrilled to see the energy from my fellow committee members. Each one of them have unique qualities. Most importantly, their vast experience in the industry motivates me to contribute to this community; it is a great learning opportunity for me and my institution.
What show are you binge-watching right now?
Our family loves watching a hindi family show Tarak Mehta Ka Ooltah Chashmah. It's a funny family show that has a social, moral, and family bonding message for everyone.
What is your go-to coffee or tea order?
I used to drink homemade Masala Chai, but lately I stopped drinking it. For now, just a warm glass of milk.
What is your favo(u)rite memory from when you were a student?
I enjoyed going to a local tea stall at night to drink tea during the exam time so we can study all night, but then go back to the dorm and go straight to sleep.
What is one thing that would surprise people about you?
I have been volunteering to teach Gujarati language since 2016 to kids ages 8-13 years old at the BAPS temples in Edison and Robbinsville, NJ.
What is the best piece of advice you have ever received?
"Forget, forgive and move on."
We hope you enjoyed learning a little about Bankim! Please look for a new edition of "Meet Your NACCU Volunteers" soon.