Meet your NACCU Volunteers: Sara Featherlin
Date posted
March 14, 2022
Meet Your NACCU Volunteers
Sara Featherlin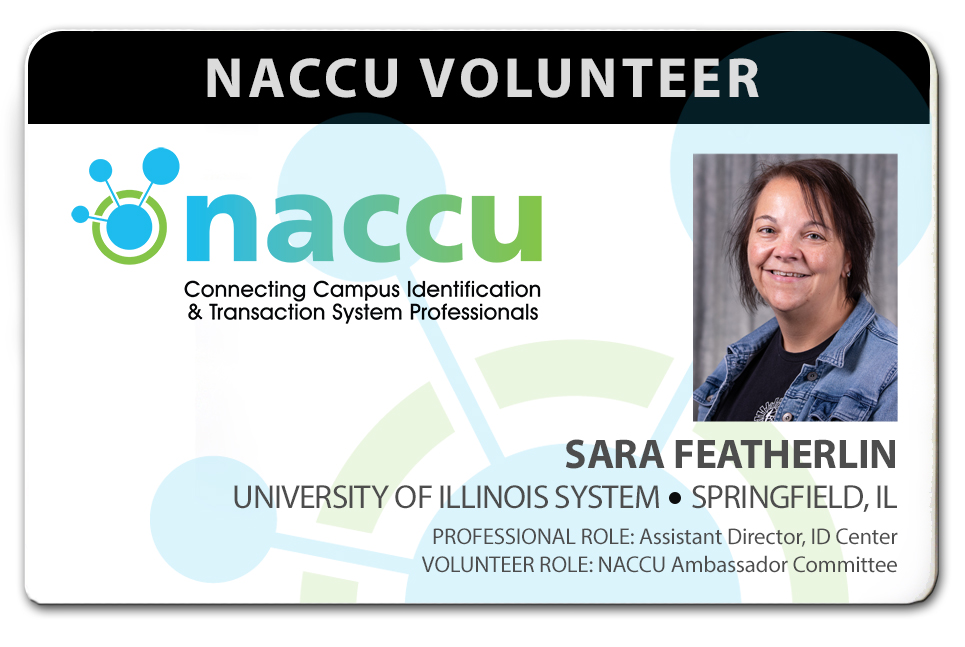 This is the latest installment of the NACCU series highlighting our association volunteers. NACCU provides programs and services to our members, many which would not be possible without the dedication and commitment of our volunteer leaders. Volunteers, whether they are a committee member, a Board member, or an onsite volunteer at a conference, are all important in making NACCU volunteer-driven programs an exceptional experience for our card industry peers.
Campus Card Information
Name: Sara Featherlin
School: University of Illinois-Springfield
Volunteer Role: NACCU Ambassador Committee
What is your role at your institution?
I serve as the Assistant Director of the UIS i-card Programs.
Where was the first NACCU conference you attended?
My first conference I attended was in Chicago in 2014.
What is your favo(u)rite thing about volunteering with your NACCU committee?
I am enjoying that it is pushing me to do things that I am not typically comfortable doing, and that I am helping NACCU grow.
What show are you binge-watching right now?
I have an entire list, but since I am completing this survey around the holidays, I am all about the Christmas movies!
What is your go-to coffee or tea order?
My order is boring - I like unsweet tea with stevia.
What is your favo(u)rite memory from when you were a student?
I did a three-week study abroad program and went to England, France, Spain, Monaco, Luxembourg, The Netherlands, and Belgium... and one day we went to Italy for lunch.
What is one thing that would surprise people about you?
I have seen my favorite band (New Kids on the Block) twenty times, and Donnie Wahlberg bought my dinner once!
What is your favo(u)rite family tradition?
I love getting together at the holidays with people that I love, telling stories, laughing until we cry, eating too much, and watching TV for hours.
We hope you enjoyed learning a little about Sara! Please look for a new edition of "Meet Your NACCU Volunteers" soon.