Joshua Bodnar Recognized with NACCU 2022 Outstanding Volunteer Award
Joshua Bodnar Recognized with NACCU 2022 Outstanding Volunteer Award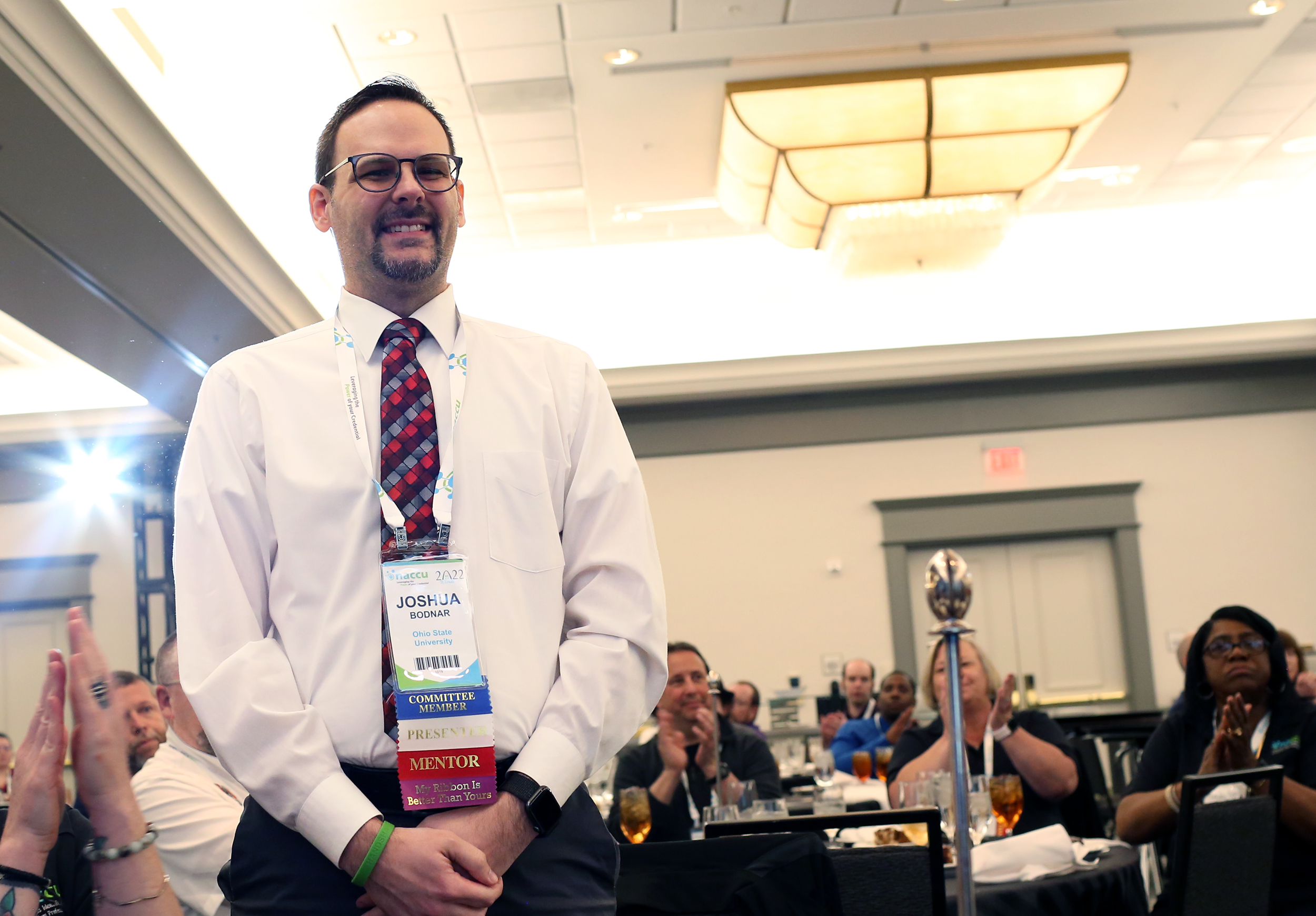 Phoenix, AZ – May 6, 2022 – NACCU is honored to recognize Joshua Bodnar from The Ohio State University as the recipient of the NACCU 2022 Outstanding Volunteer Award.
The NACCU Outstanding Volunteer Award is presented annually to recognize an individual who has demonstrated exemplary volunteer service to the mission, goals, and work of NACCU during the current or previous calendar year and encompasses the ideals of vision, diligence and commitment to service to the NACCU community.
On Monday, April 24, 2022, NACCU held the Volunteer Recognition Luncheon for those who serve on NACCU Committees, during which the successes of all our volunteers who donate time and work to advance the association and to provide programs and services for all NACCU members were celebrated. During the luncheon, the 2022 NACCU Outstanding Volunteer Award was presented to Joshua Bodnar from The Ohio State University.
A nominator made the statement that Josh "not only contributes to multiple committees but also frequently leads conference presentations and webinars. They have a positive attitude and willingness to help others shine in a community that is already so full of amazing and generous people. This person's dedication to the NACCU community is highlighted by their desire to contribute on a higher level… and they are always willing to pitch in with any request." Another nominator stated, "I have had the great privilege to serve with this person on the Professional Development Committee, as mentors in the NACCU Mentor-Mentee program, as facilitators of roundtables, and in presenting sessions at the annual conference. Not only does this person volunteer with NACCU but with other professional organizations where they represent NACCU in a positive light. I believe this volunteer exemplifies the meaning of volunteer and deserves to be awarded 2022 NACCU Outstanding Volunteer."
NACCU is delighted to honor Joshua Bodnar as the recipient of the NACCU 2022 Outstanding Volunteer Award.
About NACCU
NACCU provides members access to a network of campus identification and transaction system resources to integrate and streamline campus operations, and enhance the student experience. NACCU's mission is to advance the position of higher education transaction and identity systems through professional development and leadership opportunities for its members to stay current in an ever-changing environment.