Meet your NACCU Volunteers: Kierra Cali
Meet Your NACCU Volunteers
Kierra Cali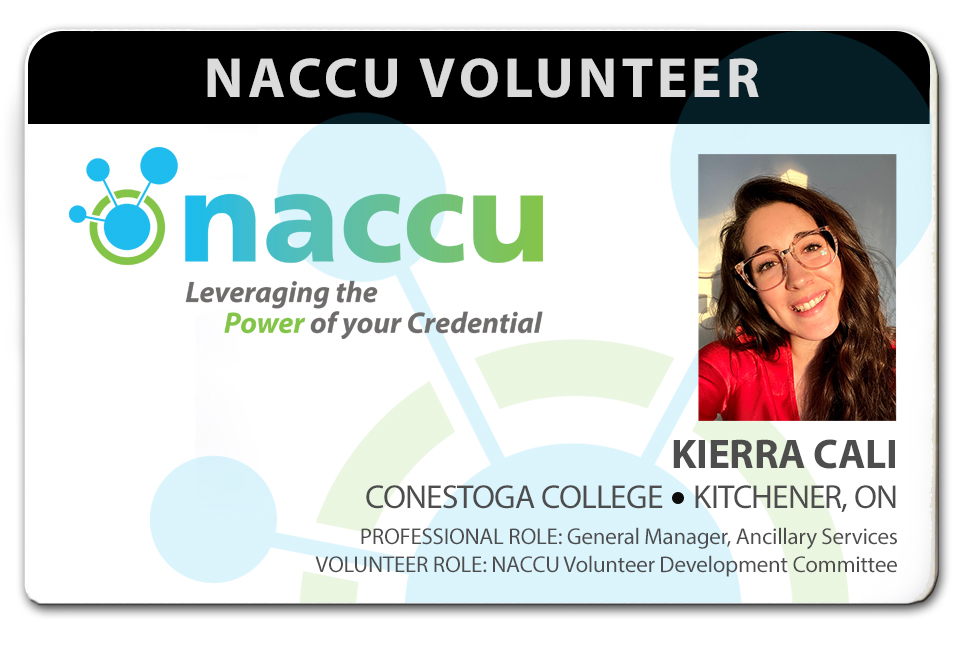 This is the latest installment of the NACCU series highlighting our association volunteers. NACCU provides programs and services to our members, many which would not be possible without the dedication and commitment of our volunteer leaders. Volunteers, whether they are a committee member, a Board member, or an onsite volunteer at a conference, are all important in making NACCU volunteer-driven programs an exceptional experience for our card industry peers.
Campus Card Information
Name: Kierra Cali
School: Conestoga College
Volunteer Role: Volunteer Development Committee
What is your role at your institution?
I have the pleasure of being the General Manager of Ancillary Services at Conestoga College.
Where was the first NACCU conference you attended?
I began my role in late 2019 so my first NACCU conference was in 2021 for the virtual conference. It was a very cool experience and exciting to see how innovative NACCU was in finding a way to gather our campus card community.
What is your favo(u)rite thing about volunteering with your NACCU committee?
My favourite thing would be the ability to give back and contribute to the NACCU community. When I began my role I was new to the Campus Card space, and I was blown away with how supportive and connected the Campus Card community is! I learned a lot and am so grateful to contribute in a small way.
What show are you binge-watching right now?
I am "re-binge-watching" Jane the Virgin for the millionth time.
What is your go-to coffee or tea order?
I am a classic drip coffee with cream kind of person. I like to keep it simple but I am very picky about the coffee shops I go to. I might be the only Canadian who does not like Tim Horton's coffee.
What is your favo(u)rite memory from when you were a student?
I have many fond memories living in residence, specifically as a Residence Don (RA) and the epic pranks we would pull.
What is one thing that would surprise people about you?
I am a spin instructor in my spare time. It is definitely a different hat that I get to put on when I am not on campus and my love for the loud music, lights, and high energy might surprise people!
What is your favo(u)rite family tradition?
My favourite family tradition is taking matching PJ photos with my family each year. The memories year-to-year are great keepsakes to have and look back on.
We hope you enjoyed learning a little about Kierra! Please look for a new edition of "Meet Your NACCU Volunteers" soon.