The University of Texas at Austin Presented with the NACCU 2022 Innovative Technology Award
The University of Texas at Austin Presented with the NACCU 2022 Innovative Technology Award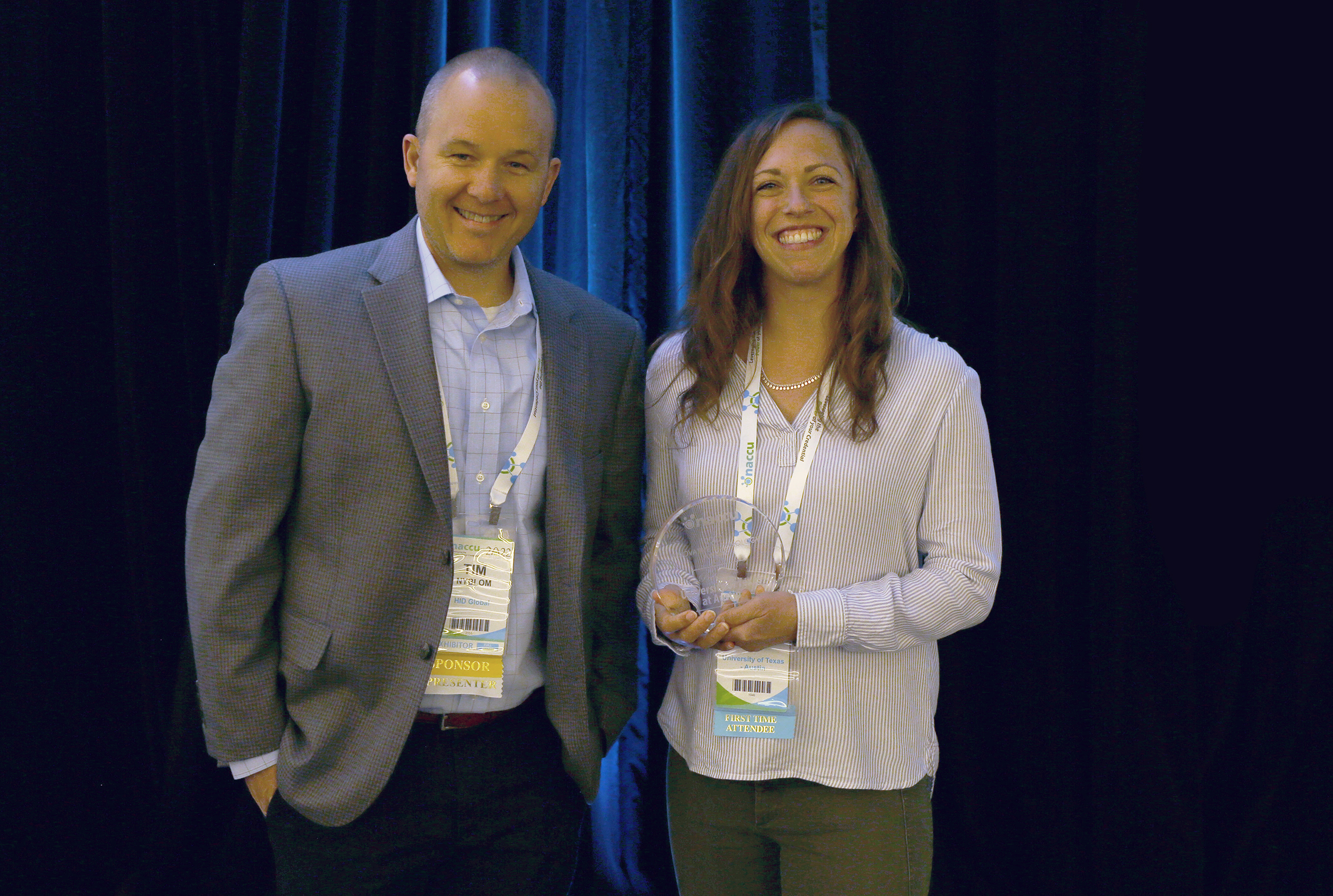 Phoenix, AZ – May 6, 2022 – NACCU is proud to announce that the University of Texas at Austin is the recipient of the NACCU 2022 Innovative Technology Award, sponsored by HID Global. Tim Nyblom, End User Business Manager with Higher Education, PACS, presented the award to Kayle Daley during the NACCU 2022 Awards Luncheon on April 27, 2022.
The NACCU Innovative Technology Award recognizes and celebrates the success of a NACCU institutional member that has implemented innovative uses of technology in support of services used by campus identification programs.
When the COVID-19 pandemic shifted the University of Texas at Austin campus to online learning, the ID Center rapidly executed portions of its modernization vision to support remote teaching and learning, a remote workforce, and essential onsite personnel while keeping employee safety paramount. Previously there was an in-person process for campus constituents to upgrade their ID to an Electronic ID which allows them to conduct university business online. Through the development of an in-house application for obtaining an EID and the implementation of Jumio Go for identity verification, the ID Center at University of Texas – Austin was able to quickly reach their goal of digitizing the entire EID upgrade process.
NACCU is excited to congratulate the University of Texas at Austin as the recipient of the NACCU 2022 Innovative Technology Award
About NACCU
NACCU provides members access to a network of campus identification and transaction system resources to integrate and streamline campus operations, and enhance the student experience. NACCU's mission is to advance the position of higher education transaction and identity systems through professional development and leadership opportunities for its members to stay current in an ever-changing environment.